Glasgow Airport Chauffeur ~ Edinburgh Airport Chauffeur 2020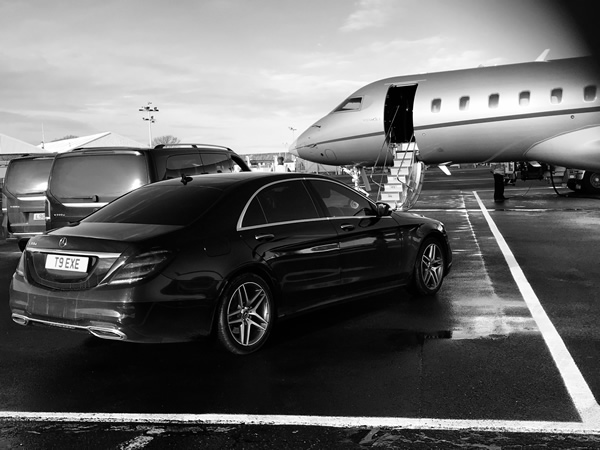 The importance of the first impression!
At Glasgow Chauffeur Ltd, we understand the importance and trust that our clients have in our ability to reflect their corporate image and professionalism! When receiving visiting business clients and guests on their behalf.
This service reflects to the visitor, the value and importance of their business relationship.
Glasgow Chauffeur Ltd are regularly commissioned by Finance & Insurance Companies; Banking Cartels, Fund Management Companies, Property Investments Companies, Blue Chip, Communication & IT Companies, to supply executive chauffeur driven transportation. Only the finest cars for Chief Executives, Company Chairman, Board Members, MPs and SMPs. Our Chauffeured 2018 Black Mercedes Benz S350AMG. Limousine meet and exceed these requirements perfectly.

Business Class Travel throughout Glasgow, Edinburgh, Ayrshire and Scotland
We can provide Glasgow Airport chauffeur services and Edinburgh Airport chauffuer services from a simple airport transfer to a bespoke multi site visit tailored to individual requirements. Where itineraries allows input, we can offer logistical support to minimize travel time schedules and maximizing actual business time!
This allows the business traveller to arrive at that important meeting refreshed, focused and stress free! Service available for inner city transfers to UK wide transfers
The Meet & Greet Chauffeur Service
As we are the first point of contact for your client, we work as part of your team, representing your company and looking after "our guest". We keep you advised of any delays or early arrivals allowing you to adjust your itinerary accordingly.
When collecting from airports, we are aware that many clients have been in transit for many hours and in some cases days. When receiving and manageing guests we act as " Personal Assistants " in offering advice or input if required. Sometimes just providing a coffee and taking a few minutes before commencing the journet to ensure they are comfortable and relaxed. This ensures a smooth transition for the client from collection, to you, arriving relaxed and ready to do "Business"
If personal information is available we are happy to pre-load clients Musical taste into the Cars audio system and Magazines relevant to the clients interests.
Full Meet & Greet Service included in Transfer cost.
Glasgow Airport Chauffeur Transfer Service - Edinburgh Airport Chauffeur Transfer Service
We offer a collection transfer service to and from most UK airports as follows:
Glasgow Airport chauffeur transfers
Edinburgh Airport chauffeur transfers
Prestwick Airport chauffeur transfers
Aberdeen Airport chauffeur transfers
Dundee Airport chauffeur transfers
Inverness Airport chauffeur transfers
Newcastle Airport chauffeur transfers
Leeds & Bradford Airport chauffeur transfers
Manchester Airport chauffeur transfers
Birmingham Airport chauffeur transfers
London Luton Airport chauffeur transfers
London Gatwick Airport chauffeur transfers
Stansted Airport chauffeur transfers
London City Airport chauffeur transfers
Heathrow Airport chauffeur transfers
Cardiff Airport chauffeur transfers
Choose Glasgow Chauffeur Ltd, for a truly Professional and Corporate business class chauffeured car service